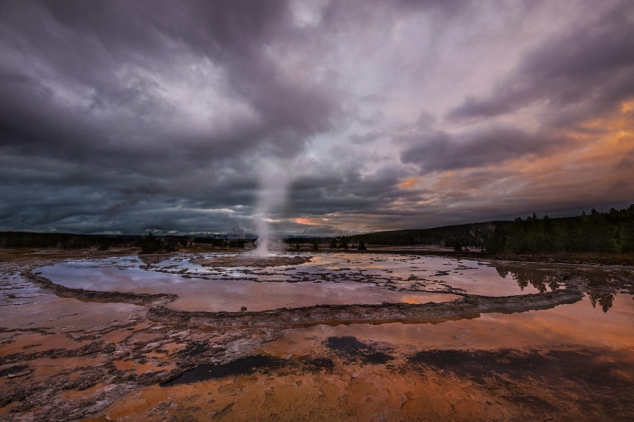 This was my 20th visit to Yellowstone and the Grand Tetons and as usual, the weather took the group on quite a wild ride. As many of you know, my least favorite conditions for photography are slate gray skies or clear blue ones… well, we got none of that as you can see in the image above of the storm clouds at sunset at Great Fountain geyser and at the Mormon Row area below. Even my first night image the day before the group arrived quickly became clouded in.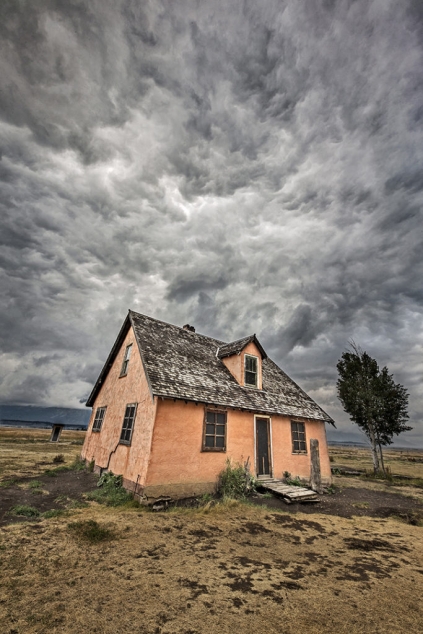 Even the mornings where the weather forecast was calling for clear to partly cloudy skies we had some pretty thick fog roll in. We chased the openings which creating some dramatic looks when the Tetons popped through.
The group met up at 5am that foggy morning and after checking out and grabbing a leisurely lunch we headed off to the Northeast corner of Yellowstone. A quick check of the weather forecast called for the only clear night the group would have so we pulled an all nighter arriving back at our hotel at 4:30am the next day! Another epic night on a RWR workshop but it was worth the exhaustion as you can see in the images below, all captured with the new Sigma 14mm f/1.8. I also let the group sleep in the day until we met later in the afternoon.
The very next day it started to snow for four days straight! I don't know about you but snow in Yellowstone in mid-September is a real treat. We only got a few inches each day with most of it melting by the afternoon so we spent the time on the open roads chasing waterfalls with the most dramatic ones dusted with snow.
The Greater Yellowstone ecosystem is one of the most diverse photographic locations for both landscape and wildlife opportunities. The group was very fortunate to capture the Bull Moose out in the open our very first afternoon out.
We also had plenty of opportunities for pronghorn and bison as well but my favorite image may be of the elk standing on Canary Springs. This is the first time I have ever seen them on the terraces in all the years I have been coming. I was using my new Sigma 100-400mm lens on all the wildlife images and decided to do a few environmental portraits as well.
I always plan at least one outing to the Grizzly and Wolf Discovery center when I am staying in West Yellowstone. The falling snow added to the drama especially when the wolves started howling.
If you would like to join me for my 2018 Yellowstone/Grand Teton workshop you can find all the information you need here and as always, it is limited to 4 participants.