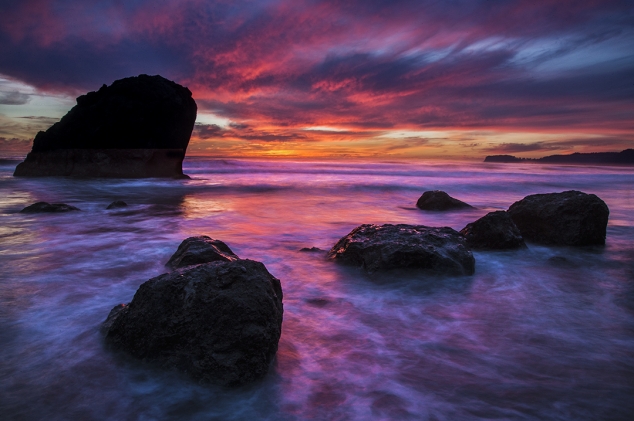 I have always loved the Pacific Northwest and I was really looking forward to running my workshop there even with the challenges I knew we would face with the weather…. especially on Mt. Rainier. I made sure I scheduled enough days on the mountain so we could focus on the waterfalls but also have plenty of opportunities for night photography. The weather changes very quickly and the shot below is one of the only opportunities we had at sunrise where we could actually see the mountain. The fog lifted and then came back in just a matter of minutes!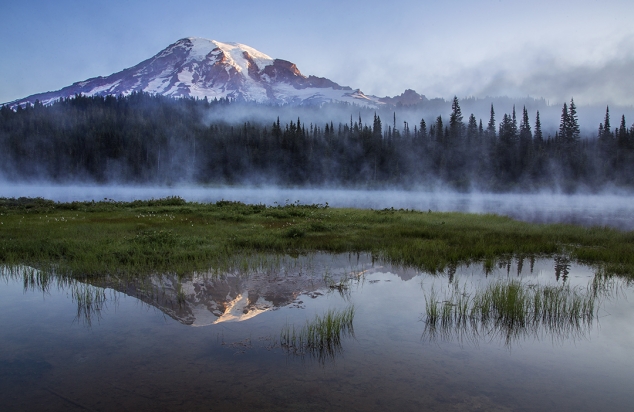 The same pattern held true at night although we did get one good night to photograph the cascades of Myrtle falls along with the wildflowers. I illuminated the falls and wildflowers with some strategic light painting.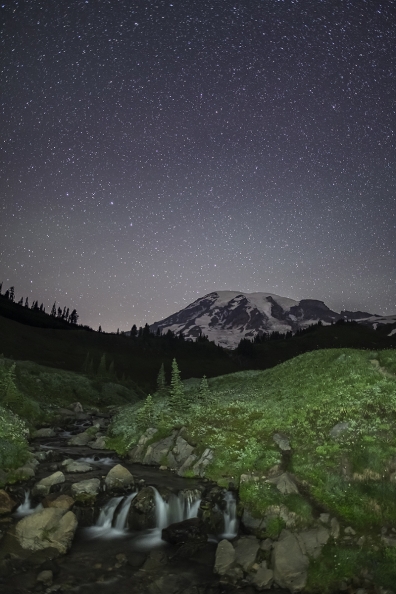 On the rainy days, I focused the group on some waterfall photography although we did get a few breaks with some dramatic clouds.
We left Mt. Rainier and headed over to Olympic NP to concentrate on the Hoh rain forest (with a straight shot and a zoom blur) as well as the sea stacks along the coast. The image up top was from the one afternoon we had with a spectacular sunset and the image below is from the same day just a bit earlier. I played with dragging the shutter to get the silky look on the water that I wanted.
The highlight of the workshop for me was the peak night of the Perseids meteor shower. We made it out to the sea stacks just as the moon was setting. I really like this image but I have to tell you that just being out there and enjoying the show was one of the most incredible nights I have ever spent out in the field.
We also did get a chance to do some city photography of Seattle both from Kerry Park and at the Public Market.
A few of us also spent an extra day to photograph the city at night from a helicopter. I am officially hooked on this genre of photography and am already looking forward to my next aerial adventure!
If you would like to join me for this exciting workshop in 2017 please check out the description here on my schedule page and below are some more images of waterfalls as well as some of the creative blurs we tried out.