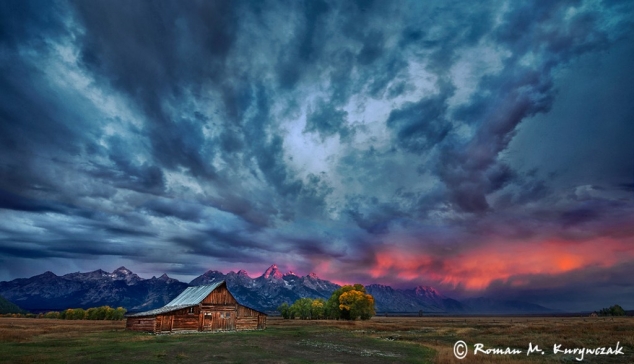 I just returned from the Teton/Yellowstone tour and all I could think about is how much things have changed over the last 23 years that I have been coming but the greater Yellowstone ecosystem is still is one of the most incredible places that I have the privilege of visiting. I have stood in front of the barns on Mormon Row more than a care to admit to but it never ceases to amaze me as to how different each morning is! It was simply awe inspiring to stand there and watch as the morning sun desperately tried to light the clouds and ridge. I loved the dramatic storm clouds so I switched to the Sigma 12-24mm lens to capture as much of that sky as I could.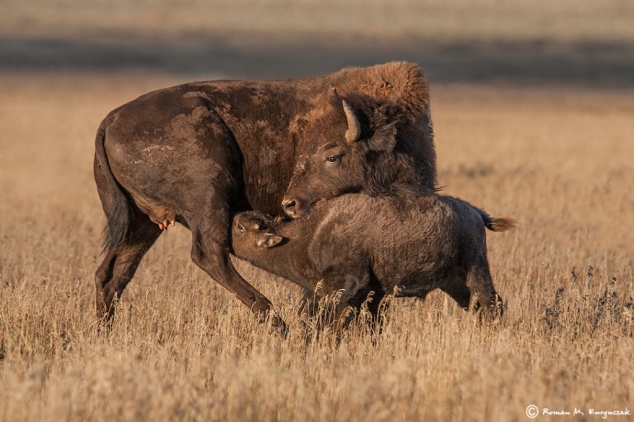 When I first photographed the park 23 years ago, the wildlife wasn't nearly as abundant in the Tetons as it is now. I never get tired of photographing bison in sweet light but I now concentrate on behavior of any kind. Not always as easy as it looks but late or early light definitely makes it much easier to bring out all the details in their fur.  Sigma 120-300mm f/2.8 with 1.4 teleconverter.
Over the last few years, the park service has gotten much more strict with photographers/tours/meet-up groups and they ask for permits for photography if they make any kind of money (even just a free trip). I do not want to fight the federal gov't or risk getting fined and thrown out of the park, so I hold a permit. Realize that you can be fined too and your adventure would be over. To find out if your tour company/meet-up group/ or workshop leader has a permit, simply ask or better yet, go to the NPS site for Yellowstone where you can find the info for yourself.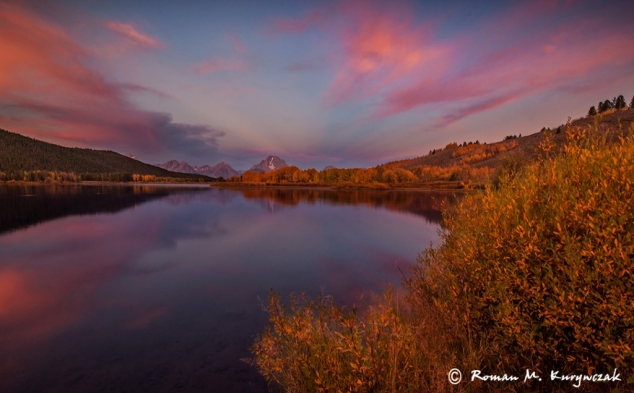 We were in the Tetons for peak fall foliage, which wasn't as good as some years, but was still very nice. I know some people avoid the classic spots but I always wonder how anyone could ever get tired of that view? I tried using the Sigma 12-24mm for a different take on Oxbow Bend and went to the Sigma 24-105mm for the Schwabacher's landing shot.
As we headed into Yellowstone, dramatic skies such as the one pictured above at Great Fountain Geyser continued to delight us. This image maybe my favorite from the tour.  I used every mm of the Sigma 12-24mm to capture the beautiful clouds just before the eruption. On overcast days, I chase the waterfalls to be found in Yellowstone. Most people are familiar with Lower Yellowstone falls (pictured below at Artists Point) but many pass by Undine falls (below that) which is right next to the road and I consider one of the nicest falls in the park!
We were blessed with a few days of clear nights and I even kept the group out for an all-nighter. Haven't done that in a while!!!  They were more than enthusiastic although by the time we got back, all including me, were ready for a long siesta! Below is an image of White Dome geyser from that night with the Milky Way rising next to it.
The wildlife activity was really good up at Mammoth Hot Springs area with both rutting elk and pronghorn plentiful.  I used the Sigma 120-300 f/2.8 with and without the teleconverter for these images.
A big surprise this year at Mammoth Hot Springs was that the boardwalk was reconfigured in an area that is starting to get more flow. Below are a few images from the area with the top one being from the end of the walkway and the image below that in an area that the boardwalk was reconfigured.
I started Roamin' with Roman photo tours almost 12 years ago and I pride myself in giving personalized instructions. Remember that transportation within the parks is included in my cost so while you are in the vehicle with me, we often discuss processing tips and other tech issues. I can also quickly modify the itinerary (and often do) as conditions dictate. I am in the field with you every step of the way to give you as much instruction as you want, 24 hours a day, for the duration of the workshop. My photographic versatility and small group sizes allow me to teach in an environment that will not only help you build your portfolio quickly but will also give you the knowledge you need as you head out into the field for yourself. Come join me and experience the difference of a Roamin' with Roman Photo Tour and stop getting lost in the crowd!